The key to protecting our drinking water is safe disposal of potentially hazardous materials. In the Spokane area, technical assistance is available, free of charge, to business owners.
The Stormwater and Waste Disposal guide provides easy to use management practices and waste disposal resources.  The guide does not replace the numerous industry regulations that need to be followed if you handle hazardous or caustic materials of any kind.  Each material will have guidelines and legal requirements for storage and disposal that are designed to protect people and the environment from their misuse or mishandling.   Agencies and non-profits collaborated to develop this guide to help you navigate the complex world of handling toxic materials. SAJB is committed to the success of your business while protecting our drinking water.
Envirostars Certification
The Spokane EnviroStars Program is a voluntary, no cost technical assistance and certification program for small quantity generators of hazardous waste. EnviroStars certification provides a recognition certificate and decal and promotion in print media as well as community events.
Hospitals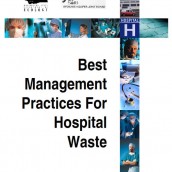 For Hospitals, the Spokane Aquifer Joint Board worked with the Washington State Department of Ecology in 2005 to compile an extensive set of Best Management Practices for Hospital Waste. The appendix of resources was updated in 2011. A downloadable pdf of the 308 page publication can be accessed by clicking above.
500 Foot Project
SAJB estimated that 1500 businesses were within 500 feet of a purveyor wellhead or within the Spokane County Aquifer Protection Area. From 2001 to 2006, SAJB developed interlocal agreements with Ecology to provide technical assistance visits to businesses generating hazardous waste within the identified wellhead protection areas. The Increased Generator Contact (ICG) program sample reports are available here.