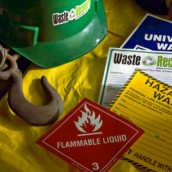 Spokane Aquifer Joint Board receives frequent requests for the names of companies that provide removal and/or disposal of hazardous waste. To serve business needs and protect our aquifer we worked with the Spokane River Forum to create the Spokane Waste Directory.
The Waste Directory provides a searcheable database of more than 120 business wastes and 60 vendors who can properly dispose of your business wastes. The Waste Directory is simple to use and is linked to a Google map feature so you can find the vendors closest to your business for drop off as well as vendors who will pick up your wastes. Simply click on the image below.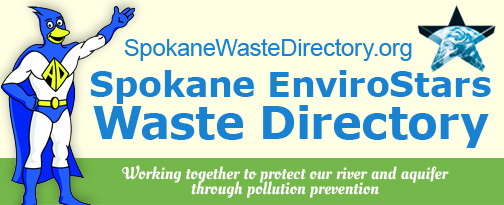 In addition to the waste directory, below is a list of regional companies that provide hazardous waste services for businesses. SAJB does not recommend specific companies, whether they appear on this list or not. It is up to you to research a company's credentials before hiring them. This list is for businesses needing to dispose of hazardous wastes generated through business operations, not household hazardous waste.
Spokane Area Waste Disposal Service Providers
Company Contact Information
Waste Disposal Services
Able's Clean-up Technologies, Inc.
509-466-5255
www.ablecleanup.com
Remediation & clean-up: Storage tanks, air monitoring, drug lab, mold abatement, unknown substances, emergency response

Clean Harbors Environmental
19320 Des Moines Memorial Drive,Bldg. D, Suite 400
SeaTac, WA 98148
800-645-8265
www.cleanharbors.com
Bulk, drum, wastewater, landfill, oil, PCB, explosives, medical waste, shredding, transportation
Emerald Services
3808 N. Sullivan Road, Bldg 11 Suite C
Spokane, WA 99216
509-928-6789
509-928-7048 Fax
www.emeraldrenews.com
Oil, solvent, antifreeze, oil-based paint, corrosives, batteries, inks, florescent light tubes, rags, solids/sludge
Earthworks Recycling
1904 E Broadway Ave
Spokane, WA 99202
509-534-1638
www.earthworksrecycling.com
Florescent Bulbs, Refrigerant Recovery, paper, electronics, metals, cardboard, print cartridges, glass, cans, shredding and more
Hazardous Disposal Specialists, Inc.
Northern CA, WA, OR and NV
800-662-HDSI (4374)
wasteinfo@hazardousdisposal.com
www.hazardousdisposal.com
Wastes:Flammable waste, Oily absorbents/sludge, Paints,Corrosives, Contaminated soil, Toxic liquids/solids, Aerosols, Photo chemicals, Ink, Plating waste, Lab packs, PCB waste, Mercury waste, Universal waste
Market Equipment Co
1114 N Ruby St
Spokane, WA 99202
509-325-4526
www.marketequip.com
Refrigerant recovery, HVAC installation & repair
NRC Environmental Services
24 Hr Spill Response 800-337-7455
General Manager: Ross Frickerfricke@nrces.com
4031 E. Trent Ave.
Spokane WA, 99202
509.536.5960
509.536.5961 Fax
Emergency Environmental Response,Tank cleaning, Pumping & cleaning, Waste minimization with portable centrifuge sludge dewatering and vapor control. Diesel fuel and oil spill response.
Oil Re-Refining Company
Jon Syverson
Spokane, WA
509-928-4008
509-991-9640 Cell
509-928-4437 Fax
Oil re-refining
Pesticide Management Division
1-877-301-4555 or 360-902-2056
wastepesticide@agr.wa.gov
Commercial Grade Pesticides -This is a statewide, NO FEE collection program for unused and unusable pesticides conducted by the Washington State Dept. of Agriculture
Plastic Pesticide Container Recycling
509-965-6809
www.nwagplastics.com
Pesticides & Plastic Pesticide ContainersFor service in Idaho please contact the Idaho Department of Agriculture at 208-465-8442.
Safety Kleen
509-928-8353
www.safety-kleen.com
Oil collection, vacuum services: eg Dry Well Cleanout, emergency response, compliance
Thermo Fluids, Inc.
Steve Strieb
SStrieb@thermofluids.com
508 N. Fisk
Spokane, WA 99202
509-536-6630
www.thermofluids.com
Recycles used oil, antifreeze, filter, oily water and oily absorbents.
Total Reclaim/Ecolights Northwest
2200 6th Ave S.
Seattle, WA 98134
206-343-7443
www.ecolights.com
Mercury-bearing devices (e.g. Fluorescent Lamps, HID Lamps, Thermostats, Switches, Commercial/Industrial Heating & Cooling Equipment, Flame Sensors, Float Switches, Flow Meters, Manometers/Barometers, Gas Flow Regulators, Thermometers) All Batteries