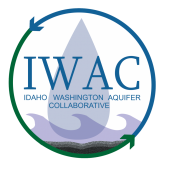 The Idaho Washington Aquifer Collaborative is a newly organized 501 (C)(3) corporation made up of Idaho and Washington water purveyors. A pdf of the IWAC Purpose and Goals can be downloaded. Visit the IWAC website at www.iwac.us
IWAC PURPOSE
The purpose of the Idaho Washington Aquifer Collaborative (IWAC) is to work together to maintain and/or enhance water quality and quantity for present and future generations by developing management strategies which benefit the Spokane Valley Rathdrum Prairie Aquifer (as defined by the USGS, "the Aquifer") and the Spokane River region. IWAC will facilitate regional dialogues and studies that result in recommendations for policy directions and shared stewardship of the Aquifer and the Spokane River, in a collaborative manner.
IWAC GOALS
The objective of developing management strategies is to address regional water supply and demand needs over the next 50 to 100 years. The specific goals of IWAC are organized within the categories of organization, water quantity, conservation, water quality, and public awareness and education.
IWAC BYLAWS and ARTICLES OF INCORPORATION
IWAC organizers agreed at the outset that consensus based decision making was essential for collaboration across a region which, while it may be divided by political boundaries, depends on a "sole source aquifer." Citizens of the region may live in one state and work in the other state and for over 500,000 people the Spokane Valley Rathdrum Prairie Aquifer is their only source of drinking water.
IWAC organizers engaged in a year of discussions to develop the operating agreements that are the basis of the Bylaws and Articles of Incorporation and by which the Idaho Washington Aquifer Collaborative operates as a legal entity.